General Federation of Woman's Clubs - Illinois
" U N I T Y I N D I V E R S I T Y "
GFWC IL Woman's Club of Cullom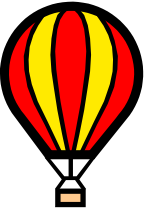 Contact Person: Judy Ehlers
32884 E 1600 North Road
Cullom, IL 60929
Ph: 815-689-2778 / Cell: 815-848-1538
Email: judye@frontiernet.net
We meet: September–June
3rd Thursday of month…..7:00pm (subject to change)
Cullom Community Building (under the water tower)
and
Occasionally in a Member's Home
Officers:
GFWC IL WOMAN'S CLUB OF CULLOM
President: Mary Howell
Ph: 815-689-9078
Email: mehowell5292@yahoo.com
Vice President: Judy Wojciechowski
Ph: 815-689-2857
Email: julia061243@yahoo.com
Secretary: Judy Ehlers
Ph: 815-689-2778
Email: judye@frontiernet.net
Treasurer: Katherine Cox
Ph: 815-253-6359
Email: katcox1@frontiernet.net
HISTORY
Woman's Club of Cullom was organized in September 1954. The Saunemin Woman's Club as our sponsor. Our first president was Grace Ginter (1954-1956) and at that time there were 61 members. We had a big 50th Anniversary celebration in November 2004 with State President Martha Bein as our guest. We celebrated our 60th Anniversary in 2014 with a tea and a slide show presentation of pictures over the past years plus a display of scrap books thru the years.
We are a small club today with 18 members but very very active in our community. We have one member who celebrated her 101st birthday in August 2017.
A dream came true in 2016 with the help of Organizations and individuals we purchased 23 American Flags which line Rt 116 thru town five (5) times a year. In 2017 again the community came together and another 25 flags were purchased. Now 48 flags line Rt. 116 five (5) times a year.
We decorate the "Welcome to Cullom" sign at each end of town on the highway with different themes about 5-6 times a year.
We use the Hot Air Balloon as our logo since Cullom is known for holding the record for the longest Hot Air Balloon ascensions at their Annual Cullom Homecoming celebration and Junior Fair in August. We adopted "GFWC IL" in our name in 2005.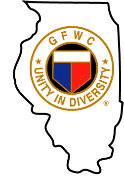 Club Committees:
We have a chairperson for all GFWC IL programs
Special Club Committees:
Bloodmobile (we do 3 times a year)
Community Beautification (We maintain our Butterfly Garden
Established in 2008)
Help with the Flower Show at Cullom Jr Fair in August
Annual Club Projects:
Chili Cookoff
Spring and Fall Garage Sales
Dippin' Dots Trailer at Cullom Celebration
Breakfast with Santa
Our Funds Benefit:
Food Pantry & Cullom Christmas Baskets

Isabella Candee and Prevent Child Abuse

GFWC IL Projects

Flowers and Fertilizer for Butterfly Garden

Money for Cullom's Easter Egg Hunt

Money to Cullom & Kempton Vacation Bible School

Decorations for the "Welcome to Cullom" sign at each end of town

Prevent Child Abuse Pinwheels

Easter Seals

Caring Pregnancy Center in Pontiac

Donation to Cullom Library

Saving for an Art School Scholarship for every other year

GFWC IL Convention Door prize

Programs

Kind News (2 class rooms)

Purchased a beautiful wooden case to hold our list of names of those who purchased 48 American Flags toward our Flag Project

Purchased 24 new food trays for the Community Building kitchen

Maybe a few other things along the way